Family law in the Woodlands can be complex, which is why divorce lawyers are often needed to protect your rights. Only an experienced family law attorney can safely guide you through the process–from filing divorce papers to dividing marital assets. As your attorney will explain, any change in your marital status requires also changes your will. With help from a law firm that handles both family law and estate planning, you can ensure that your last will and testament accurately reflects your final wishes, and divorce does not frustrate your plans. Keep reading to learn more about how divorce could affect your heirs.
Individual Assets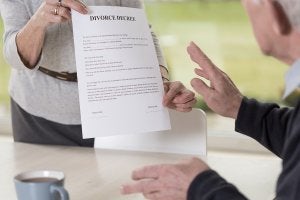 As your divorce lawyers will advise you, making the difficult decision to end your marriage also may affect how your personal property is distributed through your will. Texas provides that a divorce removes your spouse as a beneficiary of your will automatically, but your spouse's absence may create a new urgency in redrafting your will. In the event of serious illness or an accident, a thorough redraft will provide you needed comfort in knowing that your will and living will are enforceable and conform to your wishes. However, if you do not make necessary alterations to your wills (and trusts), then your heirs may not be able to collect the money you intended to award them. To ensure that your wishes are honored, have your family attorney or probate lawyer review your first will and then create a new document.
Irrevocable Trusts
Wills and trusts can certainly become more complicated after a divorce. For example, irrevocable living trusts cannot be changed, regardless of when or how your marriage ends. An irrevocable living trust involves having all assets transferred and signed over to a trustee, who retains sole control for the benefit of others. If you have already created an irrevocable living trust for one or more of your children, then neither you nor your former spouse may change the arrangement. In many cases, that means that your heirs' inheritance will be protected.
Revocable Trusts
Divorce can affect inheritances distributed through revocable trusts. Revocable trusts mean that a couple still has control over all assets in the trust. Therefore, you or your spouse can theoretically amend the trust, dissolve the trust, or remove all assets at any time. However, if you and your ex-opt to dissolve the trust, all assets need to be addressed in your divorce decree.